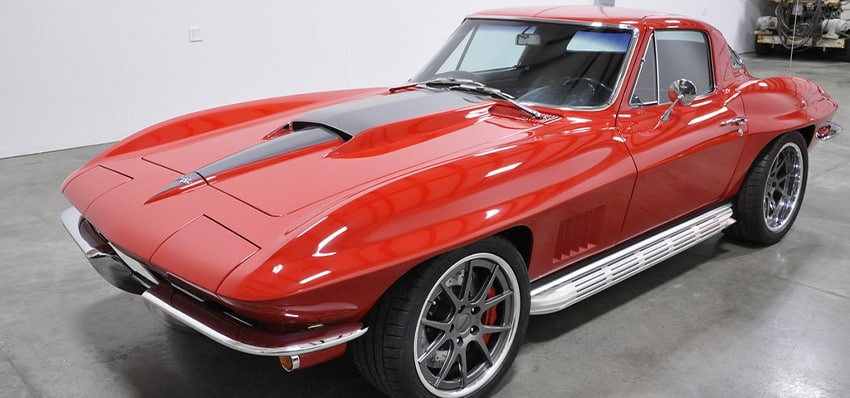 1963-1967 Corvette Chassis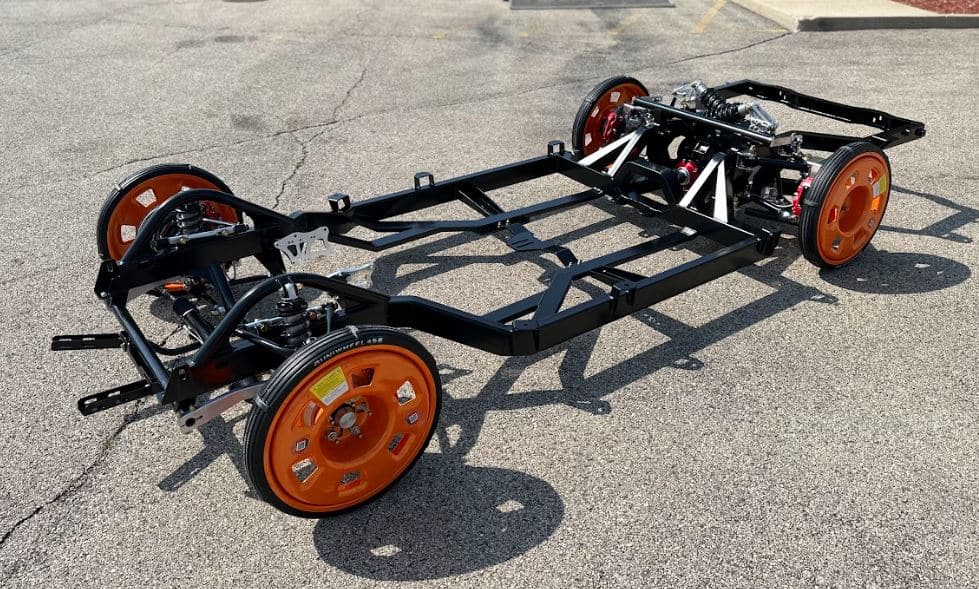 Schwartz Performance is proud to offer a completely re-designed C2 Corvette G-Machine Chassis.
We recognize the increasing popularity of resto-mod C2 Corvettes and provide a complete package which offers excellent ride quality with the handling of a modern sportscar. This chassis uses our standard low-friction suspension components, splined sway bars, quick ratio rack and pinion, and a variety of different components to suit each application.
Installation Details:
Bolts to the factory body mounts.
Uses OEM bumper, core support, and gas tank mounting locations.
Configurable with most GM engine and transmission combinations.
Compatible with a 3 inch exhaust system.
Want wider tires?
All G-Machine Chassis allow fitment of up to 345mm-wide rear tires if you minitub the wheel wells.
The independent rear suspension system is narrowed to 53" hub-to-hub to allow a deeper dish on the rear wheels
Which options do I choose?
Brakes:
Our chassis comes standard with 13" Baer brake kits. The front brake system utilizes Baer 6P 6-piston calipers and 13" drilled and slotted rotors. The rear brake system uses a smaller Baer SS4 4-piston calipers and 13" drilled and slotted rotors with internal parking brakes. Need more stopping power? Step it up to a 14" front Baer brake kit. The 14" kit uses the same 6P caliper, but larger 14" diameter rotor with more surface area. An 18" minimum wheel diameter is recommended; however, some 17s may fit.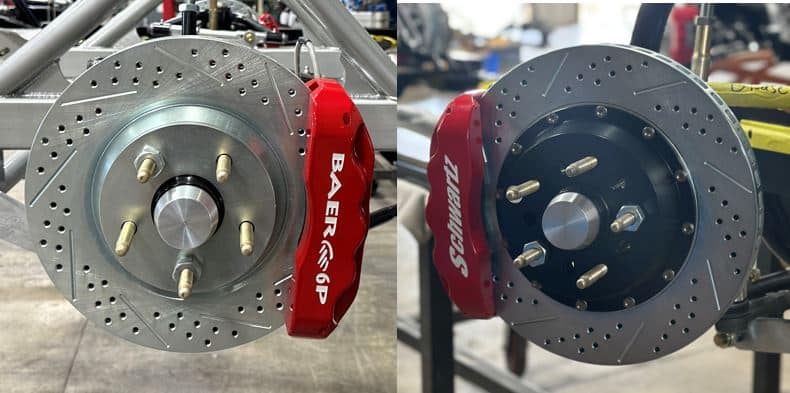 Coilover shocks:
We use RideTech coilovers as standard on our chassis systems. The two options we offer are single-adjustable and triple-adjustable. Single adjustable coilovers offer 24 "clicks" of adjustment for damping, as well as ride height adjustment. These will suit the weekend autocrosser/roadracer, as well as daily drivers. Triple adjustable coilovers offer the same damping adjustment as the singles with the addition of high and low speed compression adjustments, and a remote reservoir. These allow you to fine-tune your suspension for a specific type of driving. These are recommended for those who are willing & able to spend time tuning the shocks, and/or for the roadracer where every thousandth of a second counts.
Air ride is also available, please call for pricing & info.
Independent Rear Suspension:
Our double A-Arm rear suspension system is a compact design and has been engineered to support 1,000+ HP. The overall rear track width is 53" from flange-to-flange. This package uses a Currie center housing, 35-spline axle shafts, and a bolt-in hub assembly with billet aluminum uprights. A cantilever rear shock configuration is also available.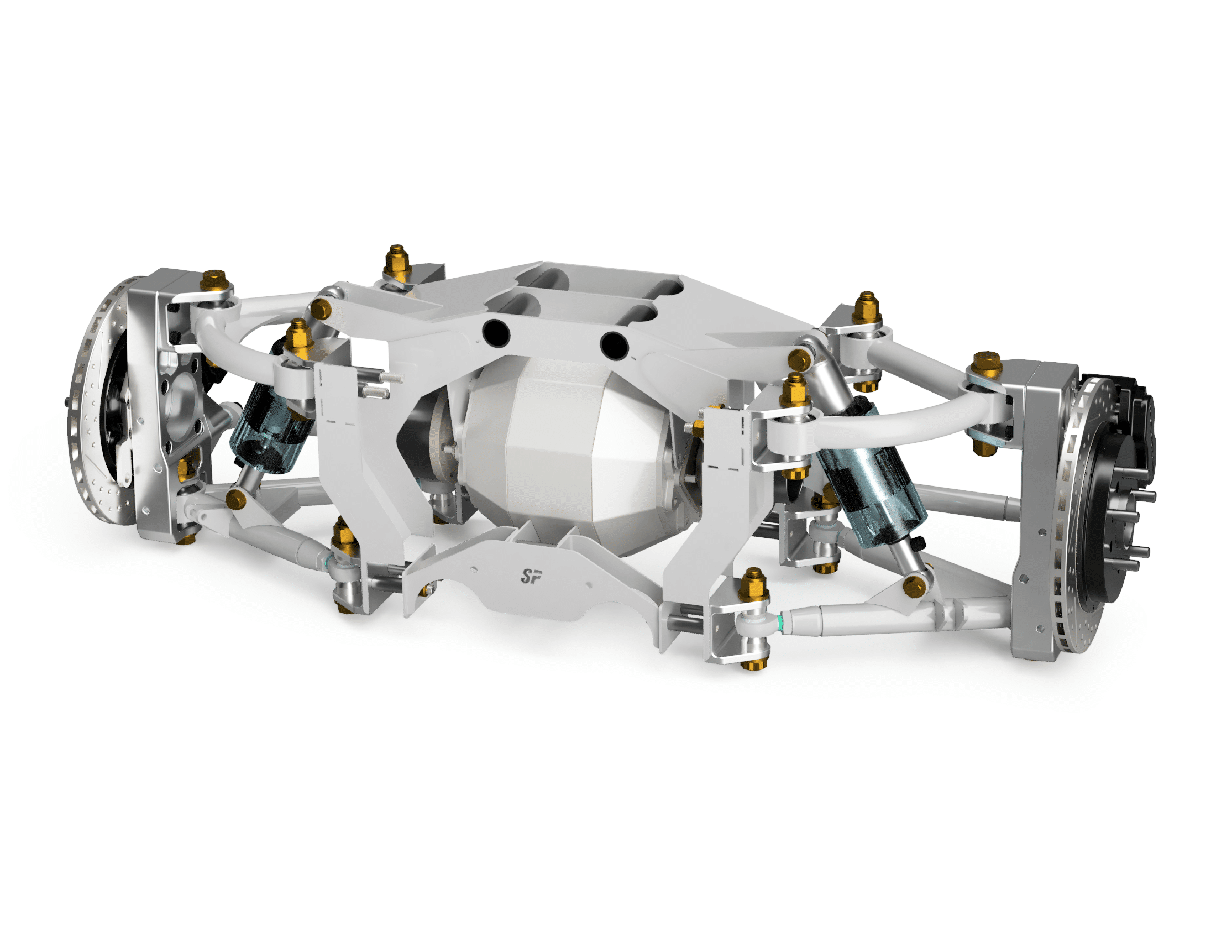 Third member/differential:
The Independent Rear Suspension System requires a 35 spline TrueTrac differential. The differentials are available with a nodular iron or aluminum case. They come standard with a 1350 yoke and are available in ratios varying between 3.0:1 - 4.56:1.
Base price includes:
A fully welded chassis, built on a precision jig
Transmission crossmember
All front and rear suspension components (excluding coilovers): Spindles, control arms, low-friction ball joints, tie rods, power rack & pinion, HD splined sway bars/arms/links, and teflon-lined spherical rod end joints for a quieter & bind-free suspension
BASE PRICE DOES NOT INCLUDE ANY BRAKES, SHOCKS, OR REAR END. CHOOSE THOSE ITEMS BELOW TO GET A GRAND TOTAL AT THE BOTTOM.
Payment terms: 75% down at time of order, remaining 25% due before shipment.
Shipping: For an assembled frame, we use an enclosed car transporter. If you don't want the frame assembled, we'll ship it truck freight in a crate. There is a crating fee which will be determined upon ordering.
Pricing below is only for reference! Please CALL to order.
Pricing: PLEASE READ ABOVE, FIRST