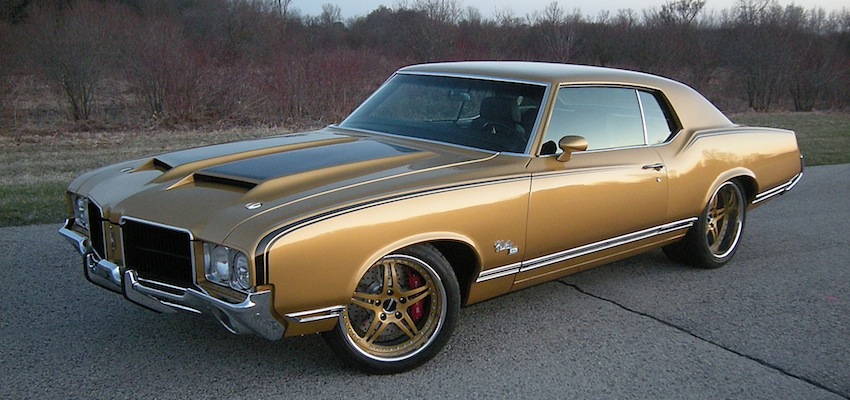 1968–1972 A-Body, GTO, Cutlass, Chevelle Chassis
1968–1972 A-Body, GTO, Cutlass, Chevelle Chassis
Details:
Bolt-in modern high-performance chassis for 1968, 1969, 1970, 1971 and 1972 GM A-Bodies.
Chevrolet Chevelle

*NEW*

Chevrolet El Camino & Wagons
Pontiac GTO / Lemans / Tempest
Oldsmobile Cutlass
Buick Skylark / GS
Our A-body is torsionally 200% stiffer than the stock A-body frames, & weighs 125lb LESS, roller-to-roller.
Installation is simple.
Our bolt-in design requires NO floor cutting or fabrication.
The rear rails are narrowed to accommodate minitubs
Since our rails are narrowed, a narrowed fuel tank is required. We can supply a stainless steel tank to fit our chassis.
Want wider tires?
All G-Machine Chassis allow for up to 345mm-wide rear tires if you minitub the wheel wells
The Moser full-floating 9" is narrower than stock (58" wheel to wheel) to allow for deeper dish on the rear wheels (lower offset wheels)
Which options do I choose?
Brakes:
Our 13" Wilwood kit is great for daily drivers and the occasional autocrosser or road racer. These require at least a 16" diameter wheel, though some 15" fit. Step up to the 14-inch Baer 6P Pro-Plus and get a brake system that will suit whatever you want to do. We race our 1965 Tempest often with this brake setup. The baddest kit is the Baer 6S, which is a one-piece forged caliper. This brake kit suits the hardcore roadracer, but does not sacrifice street driving. The 14" brakes require a 18" diameter wheel, however. Additionally, the Baer calipers are available in many colors, while Wilwoods are available only in black.
Coilover shocks:
We use RideTech coilovers as standard on our chassis systems. The two options we offer are single-adjustable and triple-adjustable. Single adjustable coilovers offer 24 "clicks" of adjustment for damping, as well as ride height adjustment. These will suit the weekend autocrosser/roadracer, as well as daily drivers. Triple adjustable coilovers offer the same damping adjustment as the singles with the addition of high and low speed compression adjustments, and a remote reservoir. These allow you to fine-tune your suspension for a specific type of driving. These are recommended for those who are willing & able to spend time tuning the shocks, and/or for the roadracer where every thousandth of a second counts.
Air ride is also available, please call for pricing & info.
Rear end housing:
Our standard axle is a Moser full-floating 9" style housing, with 31-spline axles. We have tested this rear end up to 1000hp street cars with no issues. Contact us for higher HP, or if you'll be drag racing it often on slicks with over 800hp. The Schwartz IRS option is for those craving an IRS in their musclecar. This is recommended for up to 700hp.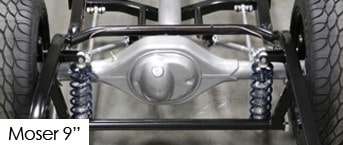 Third member/differential:
The Ford 9" comes with a clutch-type posi. Our first option is just that, with a cast-iron center section. If you have less than 500hp and won't be racing the car, this is just fine for you. The Detroit TrueTrac differential is a helical-gear type posi, which holds up to more power than the clutch posi, lasts longer (no wearable parts), and is quiet enough for street cars. Moser offers a new nodular iron case which is recommended for 600+ hp and racing. Their aluminum case also holds up to higher horsepower, and is much lighter than iron cases.
Base price includes:
A fully welded chassis, built on a precision jig
Transmission crossmember
All front and rear suspension components (excluding coilovers): Spindles, control arms, low-friction ball joints, tie rods, power rack & pinion, HD splined sway bars/arms/links, and teflon-lined spherical rod end joints for a quieter & bind-free suspension


BASE PRICE DOES NOT INCLUDE ANY BRAKES, SHOCKS, OR REAR END. CHOOSE THOSE ITEMS BELOW TO GET A GRAND TOTAL AT THE BOTTOM.
Payment terms: 75% down at time of order, remaining 25% due before shipment.
Shipping: For an assembled frame, we use an enclosed car transporter. If you don't want the frame assembled, we'll ship it truck freight in a crate. There is a crating fee which will be determined upon ordering.
Pricing below is only for reference! Please CALL to order.
Pricing: PLEASE READ ABOVE, FIRST