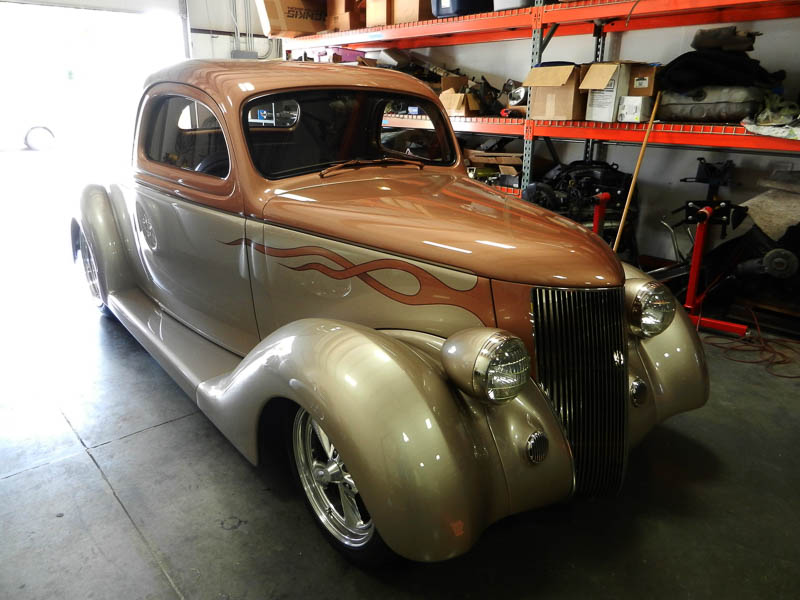 1936 Ford Coupe "Copperhead"
Several years ago, we performed suspension upgrades on this car, by adding big sway bars, switching from airbags to coilovers, and fabricated a new exhaust system.
The owner wanted a little change from his rod. So, we're swapping the 502 Big Block Chevy to a Ford Boss 302 with a custom-fabricated twin-turbo system.
Our combination will put out around 700hp on a mild boost setting, with the capabilities even higher.
Additionally, we're converting the front suspension to a Schwartz G-Machine style front suspension for increased ride quality and handling characteristics.
Frame & Suspension
Schwartz G-machine front suspension-
Baer Extreme+ brake system, 14" 6 piston brakes front & rear
Ridetech single-adjustable coilovers
Power steering rack
Engine
Boss 302 engine assembly, low compression
Turbonetics GTK450 turbochargers (x2)
Turbosmart wastegates
Custom intake plenum
Custom under-fender-mounted intercoolers
First start:
Disassembly gallery
Chassis fabrication/modification gallery
Engine, exhaust & twin-turbo system fabrication gallery
Chassis / drivetrain assembly gallery
Interior & wiring gallery