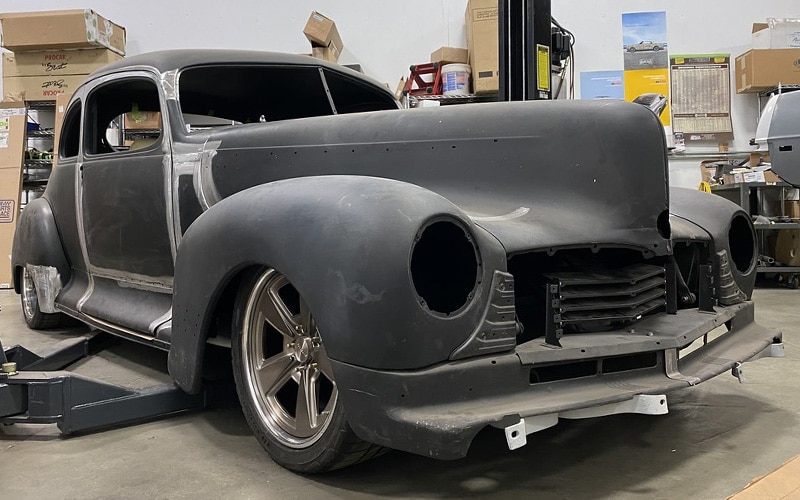 You don't see many of these around! Our customer found this 1947 Hudson Super Six in a Hemmings ad. It turned out to be just 1 town over, so we went and picked it up! It had sat in a guy's back yard for at least 20 years, accumulating a lot of rust in the floorpan. Once we had the body chemically stripped, it was amazing how perfect the rest of the sheet metal was from the doors up! These cars were built with thick steel.
Hudson Motor Car Company began vehicle production in 1909, and ended up merging with Nash to form American Motors (AMC).
Although nearly 50,000 Super Six's were built in '47, not many remain. So it was up to our craftsmen to custom build parts that were needed, as there aren't many parts available on the market.
Frame and Suspension
Schwartz Performance custom G-Machine Chassis
Ridetech single-adjustable coilovers
Flaming River power steering rack
Baer 14" 6-piston Pro Plus brake kits front and rear
Splined sway bars front & rear
Engine
Mopar Performance 6.4L crate engine
Hotwire harness & Mopar ECU
Mopar OEM serpentine drive system
OCPerformance carb-style intake & throttle body adapter
Custom aluminum air cleaner lid
CPR Billet fuel rails
Custom cast aluminum "392 Hemi" valve covers
Schwartz stainless steel long tube headers, 1.875" primaries
Custom dual 3" stainless steel exhaust system, mandrel bent & TIG welded
Drivetrain
GM 4L60E automatic transmission & Wilcap adapter
Custom steel driveshaft
Moser 9" housing and 31 spline axles with Baer Brakes full floater hub system
Currie 9" iron third member, 31 spline axles, TrueTrac differential, 3.70 gear
Wheels & Tires
Forgeline JO3C wheels: 18x9 front & 18x12 rear
BFG Rival S tires: 275/35/18 front & 335/30/18 rear.
Sheet Metal & Body Exterior
Custom firewall, floorpan, inner fenders, and misc sheet metal repairs
Custom minitubs
Custom-fit Watsons hood latches
Final color: Maroon, TBD
All original chrome will be fitted
Interior
Flaming River tilt steering column
Vintage Air Gen IV a/c system
Original gauges converted to electronic
Customized dash with added A/C & heater vents
Upholstery & seats TBD
Other Features
BeCool aluminum radiator & billet overflow tank
American Autowire wiring harness
Custom stainless EFI fuel tank with 255lph fuel pump
Optima YellowTop battery mounted in trunk with Schwartz billet battery tray
Arrival
There are no photos that match your search criteria.
Disassembly
There are no photos that match your search criteria.
Dipped & epoxy primed
Chassis fabrication & fitment
Sheet metal repair and fabrication
Pre-assembly & mockup
There are no photos that match your search criteria.
Exhaust fabrication
Interior related
Bodywork & paint