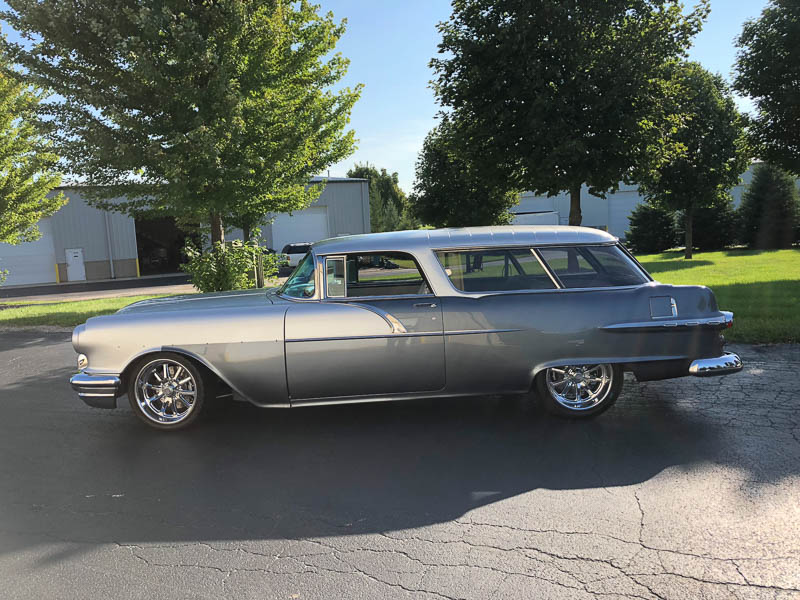 1956 Pontiac Safari Wagon
Here's an interesting build that we don't come across or see very much, ever! It's Pontiac's answer to the Chevy Nomad. Trimmed out nicely in silver and gray this Pontiac Safari came to us as a painted shell with some parts. We'll start fabrication with the underpinnings, that of course will be a Schwartz G-Machine chassis.
Frame & Suspension
Schwartz Performance G-Machine chassis system
Power steering rack
Ridetech single-adjustable coilovers
Racing style splined sway bars
Wilwood 13" rotors, 6 & 4 piston calipers
Engine
Drivetrain
Chevrolet Camaro 6L80e 6-speed automatic transmission
Custom steel driveshaft
Moser 9" full floater, 31 spline axles
9" third member with TrueTrac differential, 3.70 gears
Other Features
Aluminum radiator w/electric fans
Vintage Air Gen IV Magnum A/C & heater system
Custom upholstered interior by Shane Cassin / Cassin Customizing/light


Arrival gallery
Chassis fitment gallery
Mock up and assembly gallery
Fabricated exhaust
Interior
Completed... almost. This customer is handy and wanted to finish up a few things on his own.