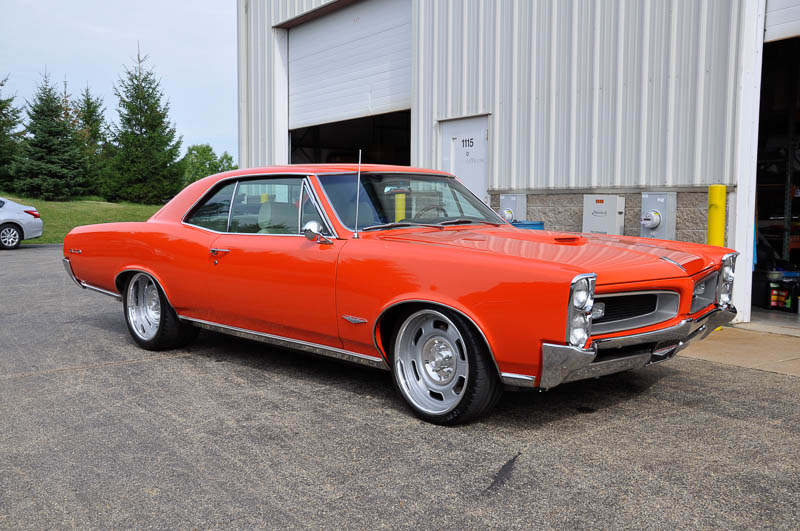 Another prime example of "Classic Style Meets Modern Technology!" This 1966 GTO came to us for a chassis upgrade, but it turned into quite a bit more than that. Details and pictures below show what it turned into!
Frame & Suspension
Schwartz Performance G-Machine chassis system
Power steering rack
Ridetech single-adjustable coilovers
Racing style splined sway bars
Baer 14" Pro Plus 6-piston brakes front & rear
Engine
Stock 389 Pontiac engine
Autotrend EFI throttle bodies
Modified aluminum intake manifold to accept EFI throttle bodies
Custom air intake
March Performance serpentine drive
Drivetrain
TKO500 5-speed transmission
Custom steel driveshaft
Moser 9" full floater, 31 spline axles
9" third member with TrueTrac differential, 3.70 gears
Wheels & Tires
Custom 19x9 and 19x12 wheels by EVOD, matches factory Pontiac Rally 1 wheels
Michelin Pilot Super Sport, 255/35/19, 345/30/19
Paint & Body
Bodyworked & refinished in Carousel Red with PPG materials
Other Features
Custom BeCool aluminum radiator w/electric fans
Vintage Air Gen IV Magnum A/C & heater system
Custom upholstered Scat seats w/custom pearl white leather front & rear
This classic arrives at our shop
Chassis fabrication gallery
Sheet metal and mini tubs gallery
Exhaust fabrication gallery
Prep and paint gallery
Misc assembly gallery
Final assembly gallery
Interior gallery
Completed gallery
Check out the video below by Lou Costabile, outlining the features of this beautiful '66.