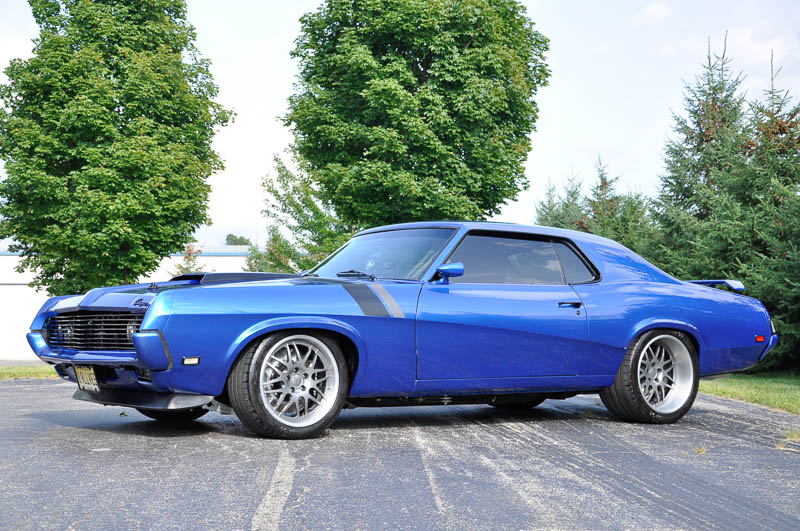 This 1969 Mercury Cougar came in for chassis and engine swap. We installed our Schwartz G-Machine chassis with upgraded 6 piston brakes, then coupled that with a new Coyote motor and a Boss 302 intake. Check out the specs & pictures below to watch this Cougar transform into a wicket Pro-Touring machine.
Frame & Suspension
Schwartz Performance G-Machine bolt-in full chassis & suspension system
Power steering rack
RideTech single-adjustable coilovers
Baer 14" rotors, 6-piston front & rear calipers
Engine
2015+ Ford Performance all-aluminum 5.0L DOHC Coyote
Ford Performance Boss 302 intake manifold
Custom 4" stainless-steel air intake tube with K&N air filter
Cooled by an aluminum BeCool radiator & electric fans
Vintage Air Coyote Front Runner serpentine drive system
Drivetrain
Tremec T56 Magnum
Quicktime bell housing
Custom driveshaft
Moser full-floating 9" housing, Detroit TrueTrac differential, 4.10 gear, 1350 yoke
Exhaust
Long tube headers
Custom 3" stainless-steel exhaust with Magnaflow mufflers
Wheels & Tires
Forgeline DE3P w/grey center, brushed lip
19x12.5 rear, wrapped with 345/30/19 Michelin Pilot Super Sport tires
19x9 front, wrapped with 255/35/19 Michelin Pilot Super Sport tires
Paint & Body
PPG paint, Ford "Flame Blue"
Blacked out trim & door handles
Body color bumpers
Custom grille
Other Features
Vintage Air Gen IV Magnum A/C system
Tanks Inc fuel tank w/internal pump
Dakota Digital gauges
Optima battery w/Schwartz billet mount
Ring Brothers engine bay fasteners & clutch reservoir
Rendering
Original car gallery
Chassis gallery
Engine gallery
Assembly before paint gallery (mock up)
There are no photos that match your search criteria.
Mini Tubs gallery (mock up)
Sheet metal work
Exhaust
Body shop and paint work
Final Assembly
Interior gallery
Completed gallery