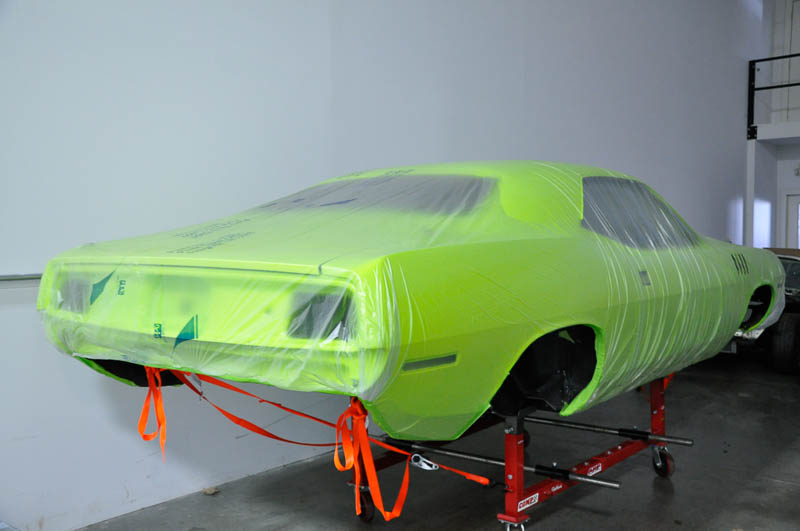 We have lots of Mopar fans and customers. Here's one where the customer purchased a painted shell and sent it to us to fill in the blanks. We'll start with a Schwartz G-Machine Chassis made to fit the customer's modern SRT-8 Hemi. This engine's computer and harness requires a lot of electrical handiwork by our expert technicians to mate it to a 46-year-old car that didn't come with any electronics. No problem for Schwartz Performance, we've done this before. This one will be a normal left-hand drive 'cuda, but that's where normal ends. See our award winning right hand drive 'cuda HERE.
Frame & Suspension
Schwartz Performance bolt-in G-Machine Chassis
Ridetech single-adjustable Shockwave air ride system
Power steering rack
Baer 14" 6-piston front brakes, 4 piston rear
Heidts independent rear suspension modified for Schwartz chassis
Engine
Chrysler 6.4L Hemi, low mileage from 2016 Challenger
Chrysler NGC computer & custom wiring harness
Magnuson 2300 supercharger kit
OEM style serpentine drive system
Milodon low profile rear sump oil pan
Custom 1.875" stainless long tube headers
Custom 3" dual exhaust with electric cutouts
Drivetrain
Tremec T56 Magnum 6-speed transmission
Custom driveshaft w/1350 U-joints
Nodular iron third member, 31 spline axles, TrueTrac differential, 3.70 gear
Wheels and Tires
Forgeline DE3P finished in black pearl. 19x9 front, 19x12 rear
Nitto Invo tires: • Rears: 325/30-19 - Fronts: 255/35-19
Interior
Recaro Sportster CS seats
Leather-wrapped dash with green stitching
Dakota Digital HDX Gauges
Nu-Relics power window systems
Other Features
BeCool aluminum radiator w/electric fans
Optima YellowTop battery
Stainless steel EFI fuel tank with internal fuel pump
This '71 Lime Light green 'Cuda arrives at our shop
Mini-tubbed for 12" wide wheels
G-Machine Chassis fit
Finished Chassis
Engine fitment, metal fab and mock up
Exhaust fabrication
Interior & upholstery
There are no photos that match your search criteria.
Final Assembly