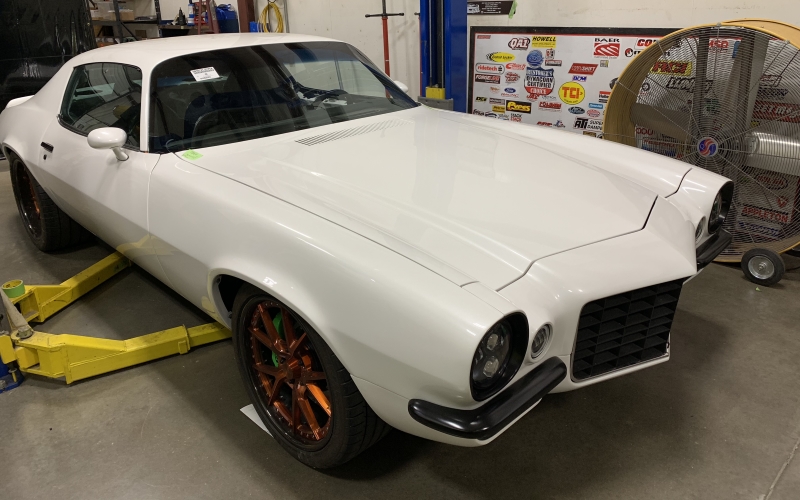 Gotta love a Gen II Camaro, we sure do! This one will be powered by a GM LSA supercharged engine with Schwartz upgrades and will output over 700hp. Custom body details and fitted with modern ZL1 Camaro seats this Camaro will be comfy while hauling...
Frame & Suspension
Schwartz Performance G-Machine chassis system
Power steering rack
Ridetech single-adjustable coilovers
Racing style splined sway bars
Baer 14″ brakes, 6 piston front and rear
Engine
GM LSA 6.2L crate engine, with Schwartz 700+hp package
GM Performance wiring harness & ECU
ConceptOne billet serpentine drive w/AC and power steering
Custom air intake w/K&N filter
Stainless steel 1.875" headers, ceramic coated
Custom 3" stainless steel exhaust, Magnaflow mufflers
Drivetrain
Tremec T56 Magnum
McLeod RST dual disc clutch & steel flywheel
Custom steel driveshaft
Moser 9" full floater, 31 spline axles
Moser 9" third member with TrueTrac differential, 3.70 gears
Wheels and Tires
?? ×9″ front, wrapped in ????? tires
?? ×12″ rear, wrapped in ????? tires
Paint & Body
Modified front panel w/LED fog lights
Deleted side marker lights
Minitubbed rear wheel wells
Smoothed firewall
Bedliner applied to entire floorpan
Interior
Dakota Digital HDX gauge system
New Camaro ZL1 full power seats
Fiberglass center console
Double-DIN head unit
Trunk-mounted Optima battery
Vintage Air A/C & controls
Flaming River steering column
4 point roll bar
Other Features
Custom BeCool aluminum radiator w/electric fan
IIMuchFabrication fuel & differential vents
American Autowire universal builder harness
LED tail lights
Baer Brakes ReMaster billet master cylinder
Sheet metal fab and rust repair gallery
Chassis fitment gallery
Engine gallery
Exhaust fabrication gallery
Assembly before paint gallery
Underbody coat and prime gallery
The requested photo source cannot be loaded at this time. Unknown user
Bodyshop and paint gallery
Final Assembly gallery
Interior upholstery gallery
There are no photos that match your search criteria.