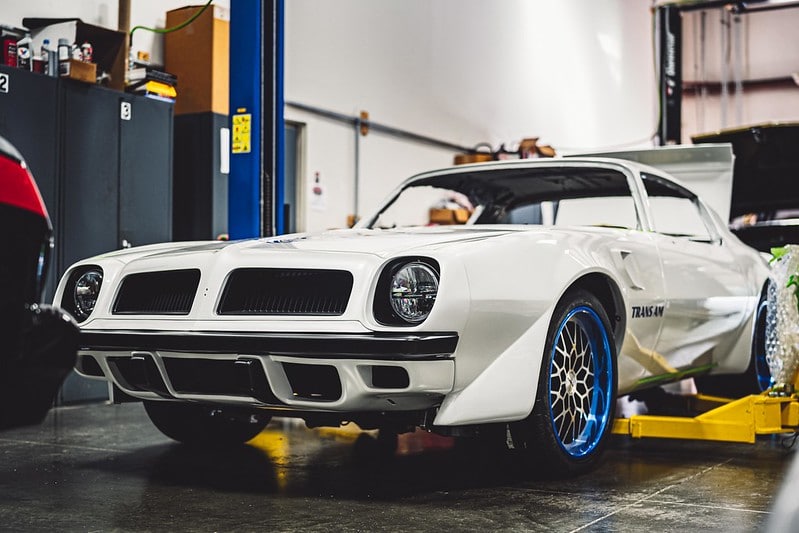 1975 Pontiac Trans Am 455
1975 Pontiac Trans Am 455
In 1974 the gas crunch was in full swing and peak of the muscle car era ended. Then Pontiac announced there would be a 1975 Trans Am with a 455 HO package. It included the 455 HO shaker hood, a 4-speed floor mounted manual trans with a 3.23 performance axle ratio, semi-metallic front disc brakes, and a specifically tuned exhaust system with twin exhaust splitters. Here's another full build Trans AM we're doing and in the process becoming Trans Am experts. Luke's 1975 came to us as a nice, complete painted, running and driving car. Upon disassembly we found a bit of covered up rust and low quality repairs. Like most cars its age it had already seen some level of restoration but Luke is having us take it to the next level with a ground up, bare metal/new metal, Pro Touring custom build. Starting with a Schwartz G-Machine performance chassis and GM LT4 Supercharged motor with a Whipple supercharger in place of the stock unit - this bird is gonna fly!
Frame and Suspension
Schwartz Performance bolt-in G-Machine Chassis
Ridetech single-adjustable coilovers
Power steering rack
Baer 14" 6-piston Pro Plus brake system w/rear floater kit
HD splined sway bars front & rear
Engine
Chevrolet Performance Wet Sump LT4 crate engine
Upgraded camshaft, valvetrain & pulleys, Innovators West crank pulley
Whipple 2.9L supercharger
Chevrolet Performance LT4 controller kit w/harness & ECU
Drive Junky LT4 serpentine drive system
Methanol injection system
Estimated horsepower: 900hp at the crank
Drivetrain
Chevrolet Performance 8L90e 8-speed automatic transmission
Chevrolet Performance Supermatic trans controller
Custom steel driveshaft
Moser full-floating 9" housing & 35 spline axles
Currie 9" iron third member, 35 spline axles, TrueTrac differential, 3.25 gear
Wheels & Tires
Forgeline TA3 wheels, 19x9 front, 19x12 rear
Michelin Pilot Super Sport tires, 265/35/19 front, 345/30/19 rear
Paint & Body
Custom fabricated steel fender flares front & rear
Filled marker lights front & rear
Fiberglass bumpers
Custom hood bird by StickerDude
Paint color - pearl white
Interior
Recaro Sport seats
SpeedHut custom gauges
Twist Machine paddle shifters
Billet Specialties steering wheel
Flaming River tilt steering column
Vintage Air Gen IV A/C system
Customized DSE 4-point roll bar
Lokar sport shifter
Upholstery TBD
Other Features
BeCool 1000hp-rated aluminum radiator module w/electric fans
Stainless EFI fuel tank with CTS-V pump & Vaporworx pickups
American Autowire Highway 22 wiring harness
Optima YellowTop battery
Arrival
Disassembly gallery
After chemical stripping.
Chassis fabrication and installation
Sheet metal fabrication
Pre-assembly & mockup
Interior related
Bodywork & paint
Final Assembly