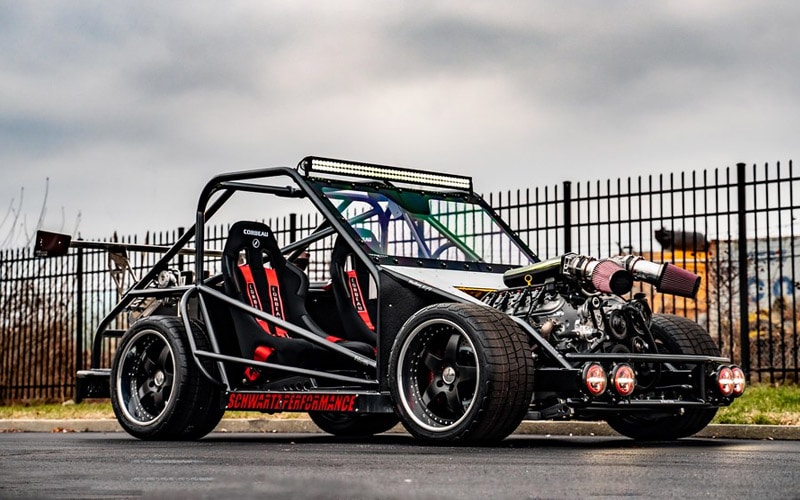 The idea for the Skart came from Dale Schwartz several years ago, to build a running/driving chassis as a display.
This idea finally started coming to life in 2018. It needed to be as short as possible (to fit anywhere), so the chassis was built to an 83" wheelbase.
The exo-kart idea is not new in itself, but this build was destined to be different. Instead of using a Corvette, Miata, 240sx, 350z, etc; we built this off of our G-Machine Chassis, using a 1972 Buick Skylark as a donor car. Nearly everything on this build was designed in CAD first, then made from a mixture of laser cut plate & bent tubing. The Skart features parts from most of our top vendors that we use on our complete car builds and chassis systems. It is fully street legal in IL, and will have SOME panels added to it soon.
We debuted the build at the PRI show in 2019, in the Ultimate Headers booth.
The Skart was built as a one-off originally, but increasing demand has had us gearing up for building more. Contact us today for information & pricing on your Skart!
Performance specs on Skart #0001:
-83" wheelbase
-72" outside sidewall width
-325 RWHP, 370 RWTQ
-2400 lbs, 50/50% weight distribution with driver
-Top speed: To infinity and beyond
-1/4 mile: Somewhere in the 11's currently
Frame and Suspension
Schwartz Performance G-Machine Chassis base
Ridetech single-adjustable coilovers
Power steering rack
Baer 14" 6-piston Pro Plus brake kits front and rear
Splined front sway bar & billet arms
Schwartz performance prototype independent rear suspension
Engine
GM LS1 5.7L (for now)
Holley Dominator ECU/wiring
Holley accessory drive parts
Holley dual throttle body Sniper intake manifold w/twin 90mm LS3 DBW throttle bodies
Aluminum 4" intakes by Vibrant Performance
Dual K&N air filters
Rear-mount radiator & fan
Drivetrain
Tremec T56 Magnum by Silver Sport Transmissions
Custom carbon fiber driveshaft (22" long) by RCV Performance
Currie 9" housing
Currie 9" aluminum third member, 35 spline stub axles, TrueTrac differential, 3.70 gear
HD CV axle shafts by RCV Performance
Wheels & Tires
Forgeline SO3P wheels, 18x11 front & 18x12 rear
BFG Rival S tires: 315/30/18 front, 335/30/18 rear.
Exterior
Powdercoated dark gunmetal grey by Motorsport Powdercoating
NineLivesRacing 71" Wang w/custom red carbon fiber end plates
Custom Lexan windshield by Bob @ Pro Glass
Bright Earth light bar
Custom tubular front bumper
LED headlights w/integrated turn signals (DOT approved)
Custom 3D printed "third" brake light
DEI heat shielding throughout
Interior
Custom fabricated floorpans, covered w/SEM bedliner
Custom laser-cut aluminum dash welded together
Holley 12.3" Pro Dash (touch screen)
Custom overhead switch panel designed & 3D printed by Area 15 Designs
Adjustable/remote-mount drive-by-wire throttle pedal assembly
Custom billet throttle pedal pad
Wilwood brake & clutch pedal assemblies
Flaming River tilt steering column & stainless shaft & U-joints
NRG quick-release steering wheel hub
Grant steering wheel
Corbeau Forza seats & 5pt harnesses
Billet Specialties shift handle w/black Hurst knob
Other Features
Custom in-house wiring harness
Stainless EFI fuel tank with Aeromotive 340lph pump
Optima YellowTop battery
Plumbing by Phenix Performance
Trailer hitch (why not)
Fire extinguisher (because safety 1st)
RideTech billet fuel cap
Drift brake **to be installed
Chassis & roll cage fabrication
Pre-assembly & mockup
Interior & panel fabrication
Thank you to our sponsors!
Final assembly after powdercoat
Completed