The G-Machine Chassis
We incorporate modern geometry, materials, suspension components and braking technology into bolt-in full-frame designs. The result is a vehicle that can be setup to drive exactly how you want it to—from track-car stiffness to luxury-car comfort, and everything in between. We have developed chassis for over 20 models of muscle cars, classic cars, and trucks built from 1947 to 1988. We can also do one-off builds for any chassis, even uni-bodies.
Complete Car Projects
Schwartz can also build your complete turnkey Resto-mod, Pro-touring, custom car project. We can locate a car for you or use a new reproduction body. Check out our PROJECTS page to check out the examples of past & current builds.
Corporate Builds and Promotional Vehicles
Schwartz builds custom promotional cars for companies. We incorporate the same high standards as we do for our valued customers. We don't need a car or a concept to get started, we can source a vehicle or build one of your projects. We work with your marketing team to develop a strategy, then carry it out. We have completed several corporate builds and some have been featured on the New York's Times Square marquis. We also cross promote your product and can tour your car to events around the country that align with your marketing plan. We offer vehicle maintenance and free promotion of your project on our site and social media. Click here for more info.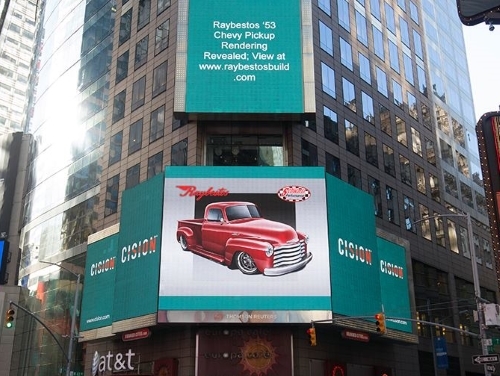 Upgrades
Whether you're looking to add a supercharger, air conditioning, power windows, smart phone compatible stereo system with hands-free Bluetooth, back up camera, or upgrading your suspension and brakes, we can handle it.
High-Performance Engines
General Motors LS engines are a specialty of ours. We can do everything from normally aspirated 675 horsepower daily drivers to twin-turbo'd 1300 horsepower open-road racers. We've even done nitrous-fed 500 cubic-inch Cadillacs and twin-turbo'd 800-horsepower electronic–fuel injected Pontiac 389s.
Electronic Fuel Injection (EFI) Conversions
From fitting a modern EFI LS engine or Ford Modular V8 into your classic car or retrofitting fuel injection to your carbureted engine, Schwartz Performance can handle it.
Maintenance
Need some maintenance on your specialty or classic car? We're prepared to give your "Baby" the utmost quality of care.